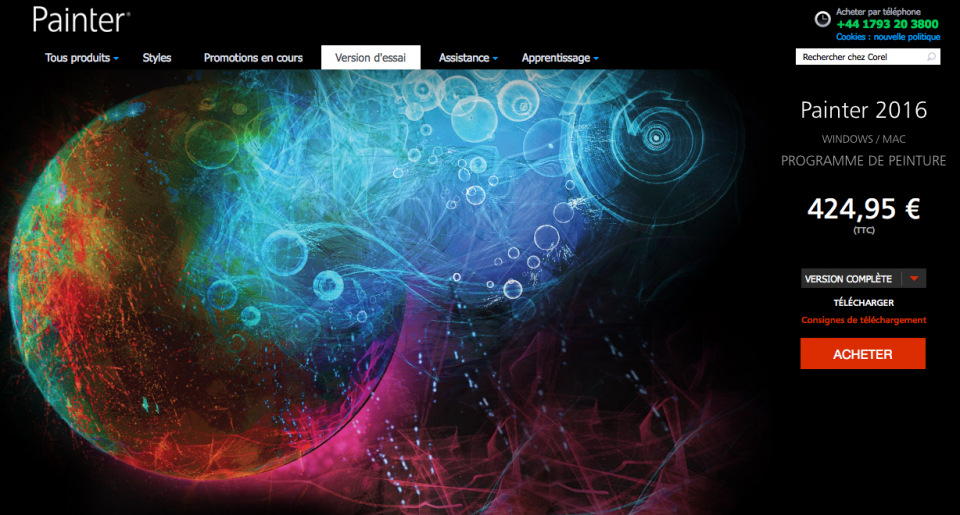 Corel launched Corel Painter 2016, and also a plugin for Photoshop, Particleshop, that use particles brushes appeared for the first time in Corel Painter 2015. Wha'ts news in that update? New brushes ( ok…), it's faster (no, really ?), new stuffs about the interface (why not?), new ways of blending (Blending 2.0 – therefore we can write that before it was Blending 1.0) and new cool  brushes, Audio brushes. These brushes work with sounds instead of setting « Jitter » to change your path. It's fun to use but  the result is not very terrific. In fact its looks like a path modified by Jitter and its always the same. The sound can modify size, opacity and colors. You just have to click on a button and you activate the sound. It's very easy to use. Corel added a libray with only Audio Brushes. Now you can also import Photoshop brushes (.abr). It works of course with all sharpes like cloud, grung effect, objects, etc… But you can't import the specific settings in Photoshop. Corel Painter 2016 gives you a lot of  links (for web) to get many others brushes buy you have to paid :/ (30€ in Europe for each library)  You can read all new features here. You can watch a lot a videos that explain all.
Video with all new stuffs.
Focus on Audio brushes.
Another cool thing : the plugin ParticleShop for Photoshop. ery easy to use.