Ok, guys, I'm the only one of the team to read all the last reports in english edited byWacom. And toc! Inside we can read the roadmap. People never read financial reports. But here we are smart. I selected some important parts.
Wacom understood an evolution of the stylus, not only for artist but also for mobile device users.

First revelation ! Wacom developped its WILL and  a new technology called Active-ES too. And this technology will be inside of new products (read the last sentence).

We learn about the new strategy [ SBPO-2019] that ended in 2019. It's clear and it's accurate. Wacom Business will grow with mobile devices (smartphone and tablet) and with cloud. Not very original, but necessary.

We learn that Cintiq 22HD, this's « top » (sales), but the Cintiq13HD, it's like a « flop » (this explained the launch of a touch model).

We also note that Galaxy Note 4 was a successfull product. At the beginning…

New informations about new products with Active-ES technology.

This's clear. This is written : launch of a  new graphic tablet's range (new pen tablet products) and a new series Bamboo Stylus with new design.

Wacom also edits software for PC [ECAD dio 2015]. After checking, it's a soft for creating technical drawing just edited in japonese market. We didn't know this soft. Link toward ECAD dio 2015.

We learn about a new product line for softwares and mobile devices. Therefore Wacom will make stuffs for mobility. We know Cintiq Companion's range. 3D will be important with 3D modeling, industrial design and 3D print. More products for chinese, indian et south american countries. Ok,  « cheap product » like « One par Wacom ». We know reading between the lines. Anyway, when you read « emerging market », that means « not expansive ».

Willingness to move to the cloud and to create communities. Not very original, but necessary. (bis repetita).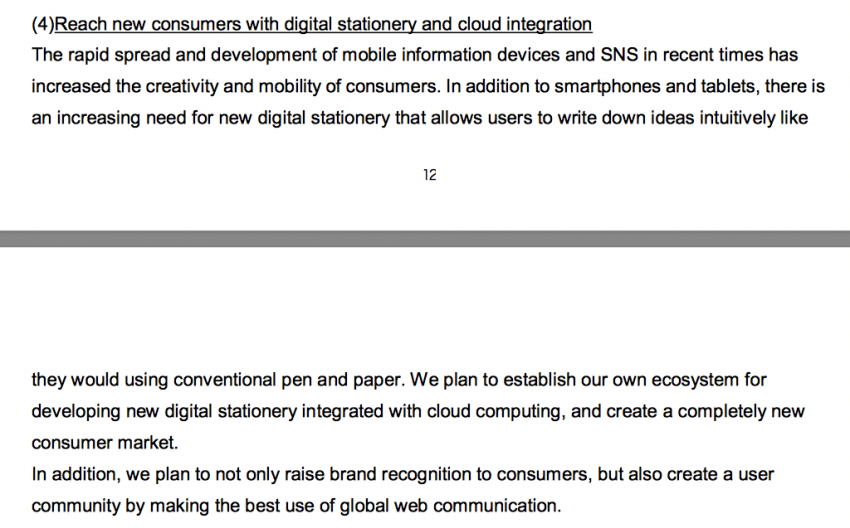 Ok we got it : new graphic tablets and new stylus with new Active-ES technology. But what's this technology? We deduce that this technology will mix 2 surfaces [active- pen/touch-finger] and these new graphic tablets will be thinner and therefore lighter.  We think about Cintiq 13HD and all Cintiq Companion, which are heavier than a Surface Pro 3. Maybe a new driver will create for that stuff (or the same driver with all new tablets, therefore a driver with more Mos). Hypothesis : new stylus won't be compatible with all models. We also think about a more accurate touch technology. Maybe the surface will recognize a lot of levels of pressure for your fingers and not only for the pen. Enhancement of levels of pressure? Not sure because 2048 levels is already a lot, but we can make a bet : multiply by 2 or by 4 of levels of pressure(read the part about chip controller). We note the presence of « a low cost solution », therefore we should have lower prices. In fact… we believe rather that prices will not change too much lol.

It's all for all revelation from the last financial report. You can read it too.