[information] We decided to rewrite the three original posts from french website in one post. Of course,  you find here informations about the new Cintiq by Wacom you will not find everywhere. Because you're worth it.
CES de Las Vegas 2015 (from 6th to 9th), Wacom unveiled two new products. The first product is the new Cintiq 27QHD. Like 22HD and 24HD, Wacom has two models. One with only pen [ DTK-2700 ] and and a second one with Pen and Touch [ DTH-2700 ].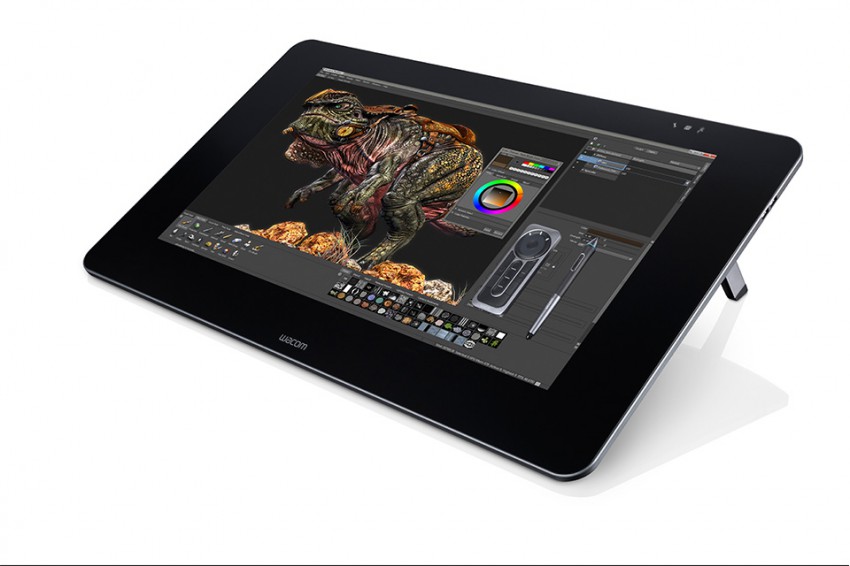 The new Cintiq 27QHD has already their own page and on the Wacom estore with all informations. The real name is Cintiq 27QHD CREATIVE Pen| and Display touch (we didn't forget to write CREATIVE with big letters ;p). The letter Q means Quad (4 x HD).
Prices : Cintiq 27QHD > 2300$ (now Cintiq 24HD costs 2200$ in Wacom eStore Us) | Cintiq 27QHD touch > 2800$ ( now 24HD touch costs 2600$). Maybe the both Cintiq 24HD should disappear next time to let this new model 27QHD becoming the premium price.
If you look this new Cintiq you note its form factor looks like an iMac with an edge-to-edge glass display, with round angles and with a back like a balloon (apologize us – we d'ont find the right words in english – when you see the back of this Cintiq, it's like the back of the last iMac). This is the firts time Wacom shows a Cintiq without borders. Note : the depth of the Cintiq loose 10 cm. Width and height don't really change compared to  Cintiq 24HD. Now look for the weight of that model :  – 3,5 kilos compared to 24HD with the stand and – 4,7kg only if we compared the screens.  The active area is 23,5 x 13,2 pouces (20.41″ x 12.8. 27 pouces – Note for readers : there are a lot of errors on the Wacom estore US about 27QHD specifications – read rather our website). Big resolution with 2560 x 1440 (1920 x 1200 pour 24HD). It was the main weakness of  24HD : low pixel density when now you have a lot of Retina products by Apple.
The aspect ratio for 24HD was 16:10. 27QHD' ratio is 16:9. What is different between the two 24HD ( pen or/and touch) and the two 27QHD is the same quality of screen (LCD AHVA – proprietary IPS) for the both new Cintiq (huge difference between 24HD's price and 24HD touch's price was the screen by Nec only for the 24HD touch model). For the new 27QHD's screen we have a better contrast,  a better brightness, a better response rate… Adobe RGB 97% too (same thing for 24HD touch). The screen uses also REC 709 . This is the standard (frame rate) for HDTV. Film makers will be happy. This Cintiq 27QHD is for them.
Wacom sold also a color manager optimized by X-Rite (you need to buy it) to get a better a color accuracy. In fact this is an modified ST-Micro Athena. The name of that stuff is Wacom Color Manager. This tool works with the two models of Cintiq 27QHD. We don't verify the price in $ but in Europe that will cost 230€. Maybe 240-250$ for you. Now native capacities of the screen are used without restriction of the PC's graphic card (that's not a sentence written by us…).  No onformation about softwares added to this tool. Remember, you had two softs provided with Cintiq 24HD touch (link W&mP).
This tool.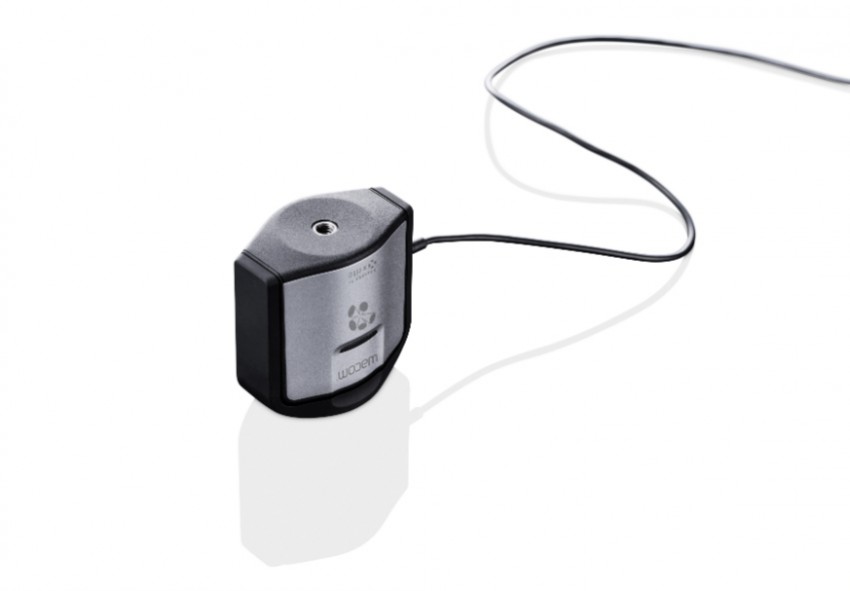 To connect your 27QHD to a PC, you can use DisplayPort ( to get 1,07 billion colors) or HDMI. End for DVI/VGA. To you to buy mini-display adaptators. But 2 adaptators DVI-D to HDMI and Mini DisplayPort to DisplayPort are provided with the Cintiq.
We knew it. 27QHD/touch is really better than 24HD touch model… Huge feat because Cintiq 24HD touch was really a top tablet.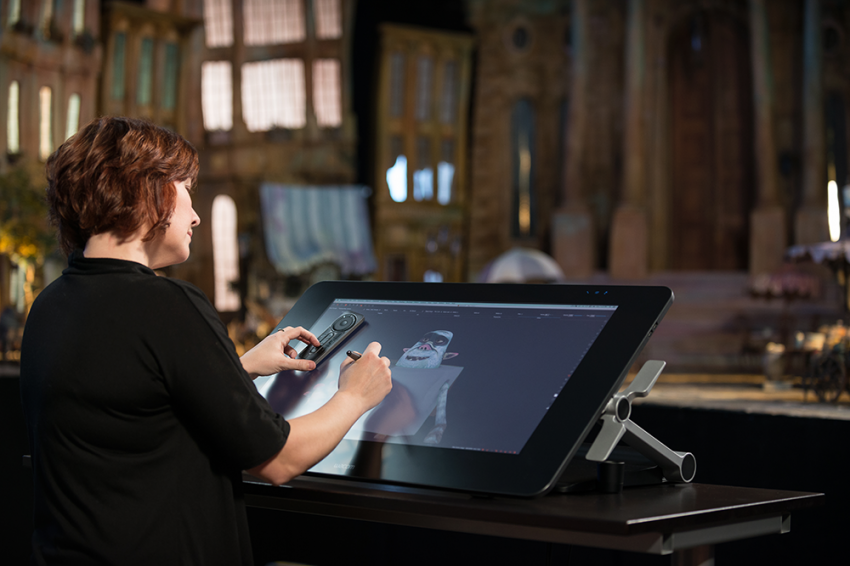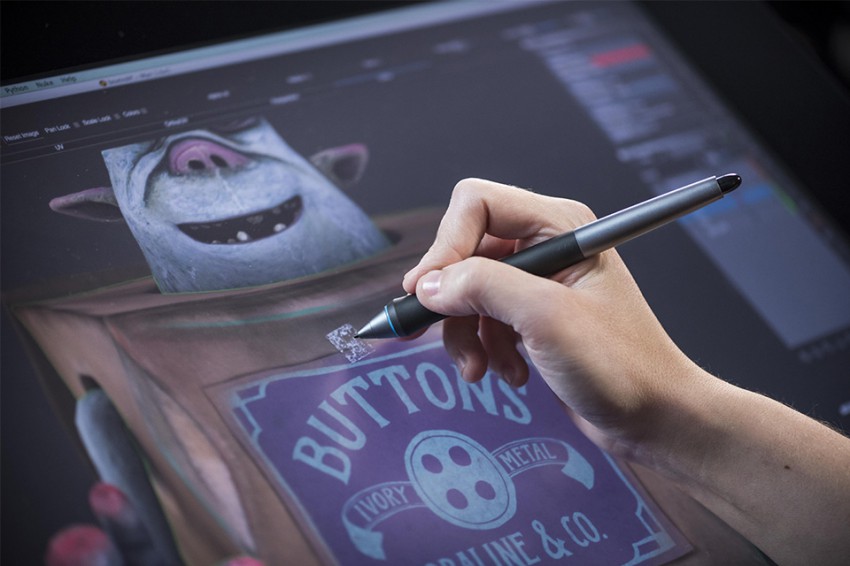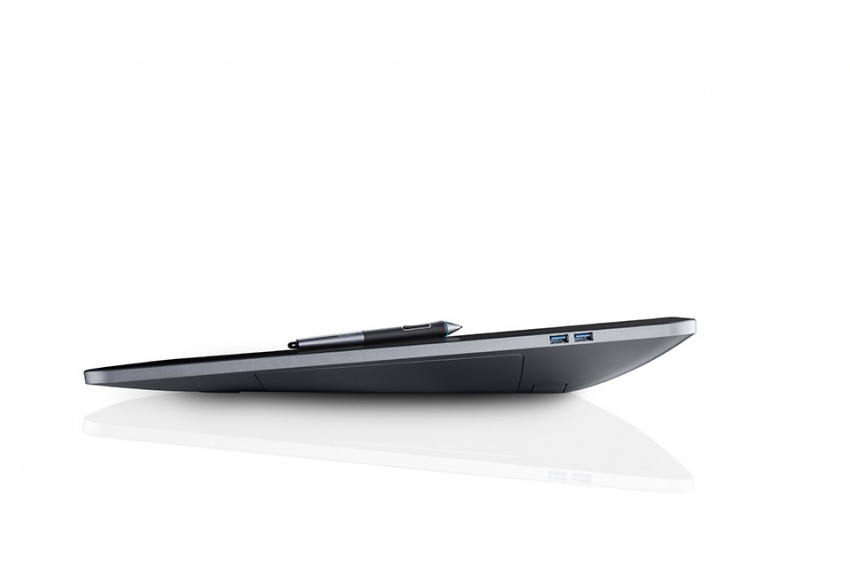 Now look for the new features and new change. The stand is separated. Screen's weight is only 9 kilos and  has now two legs to work on your Cintiq with a 20-degree viewing angle. If you choose no legs you can work with a 5-degree viewing angle. If you want the same stand than with 24HD, you have to pay 400$. This name's stand is Cintiq Ergo Stand. You can work in three ways : 2 ways with the Cintiq 27QHD and 1 way with a stand to buy.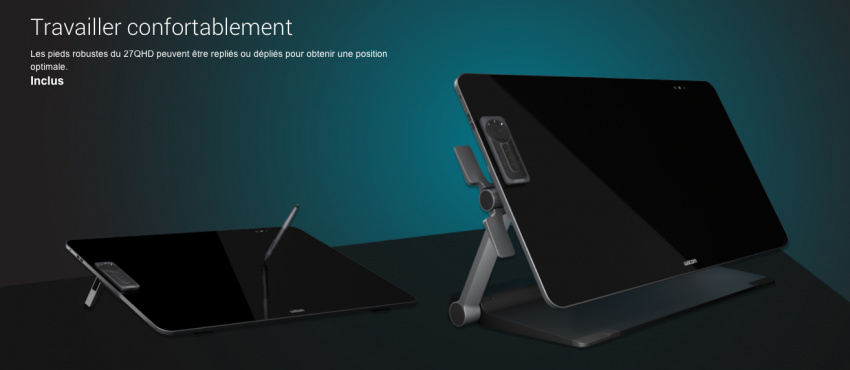 With the legs…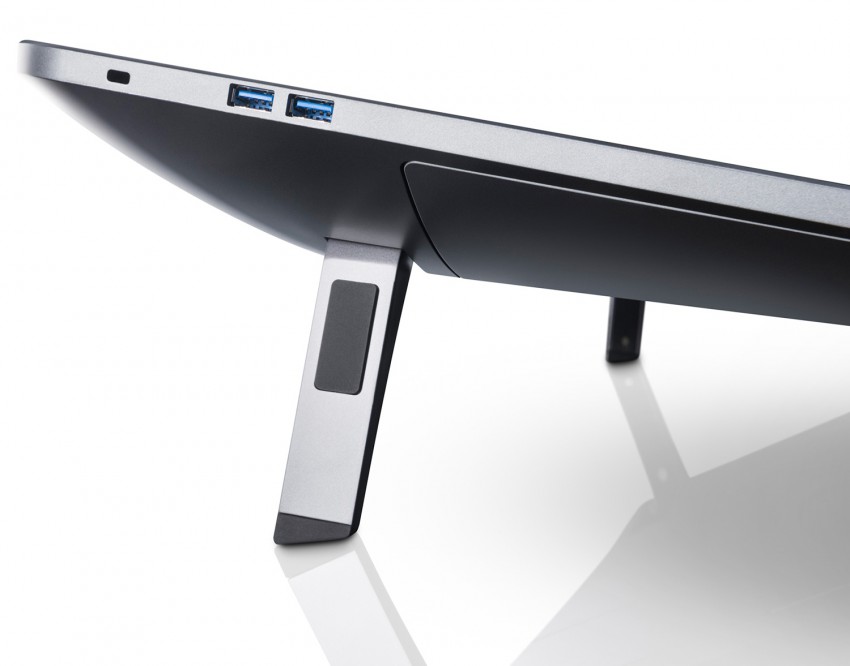 The two way to put your Cintiq 27QHD on your desktop.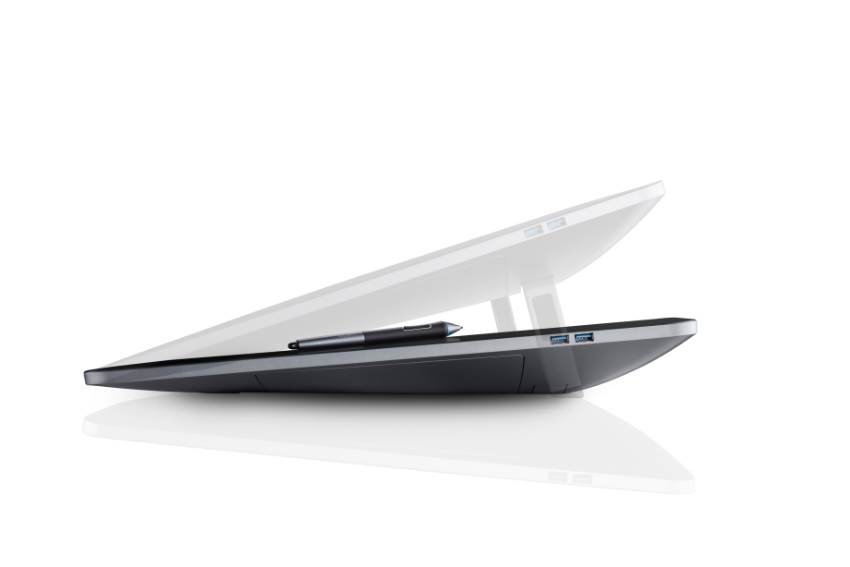 And with the Cintiq Ergo Stand.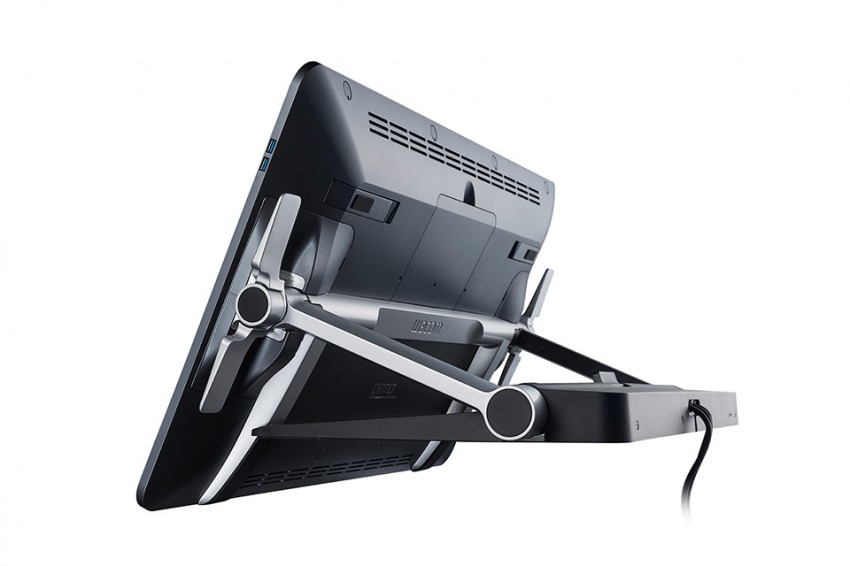 The Cintiq Ergo Stand without Cintiq 27QHD. Welcome Iron Man effect.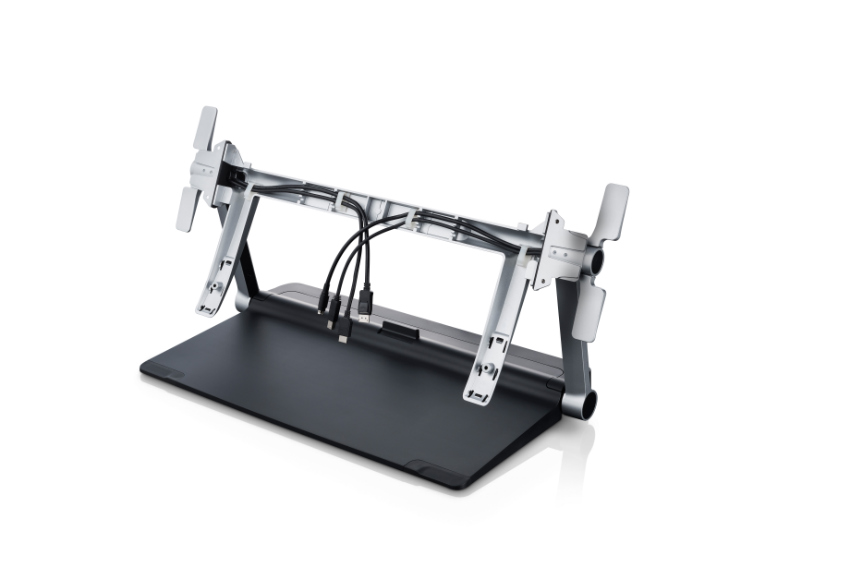 In real life.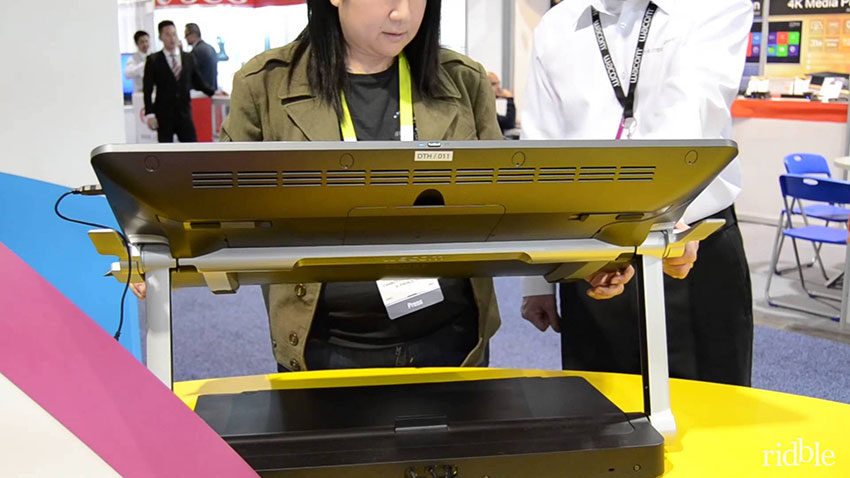 We note also that the Cintiq 24HD's Grip Pen becomes a Pro Pen with 27QHD. But the case is not provided.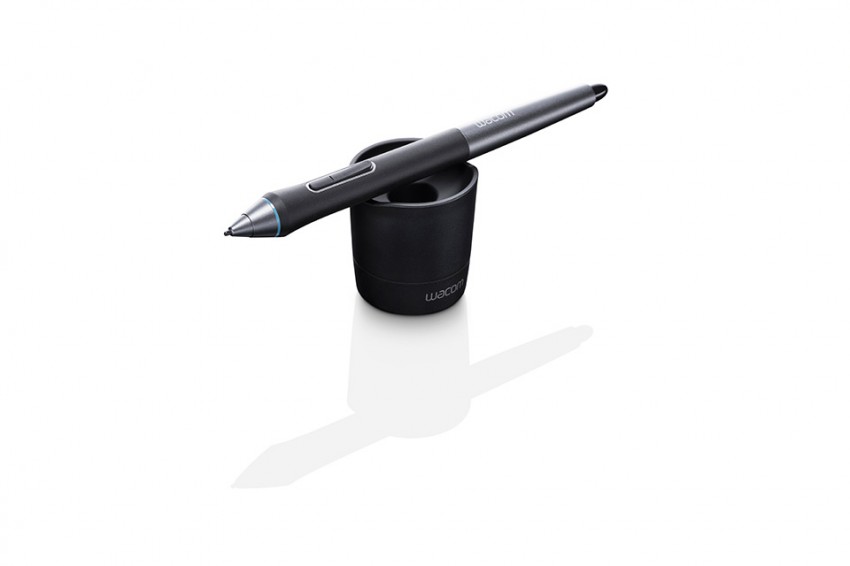 New feature : Expresskeys and Touchstrip disappear from this Cintiq. They are replaced by a remote control. Its name is ExpressKey Remote.  The remote has a lot of buttons (17 ) and one Touch Ring. You can take the remote in your hand or you can put it on the screen. No information about driver. Just one pix with ExpressView. The ExpressKey Remote works with a battery for 160 hours and need 2 hours to recharge with a micro USB cable (like Intuos Creative Stylus2 and Bamboo Stylus finleline). Same wireless system as Intuos family but the dongle is inside Cintiq 27QHD.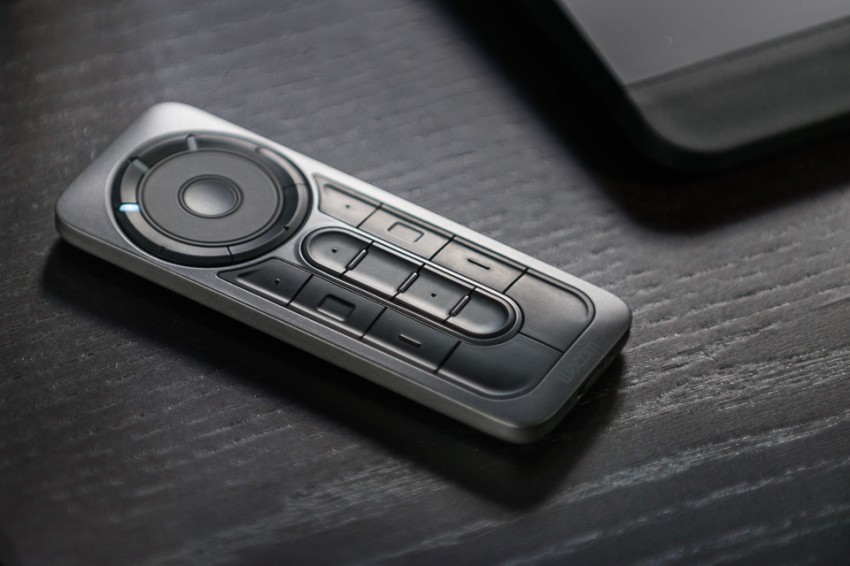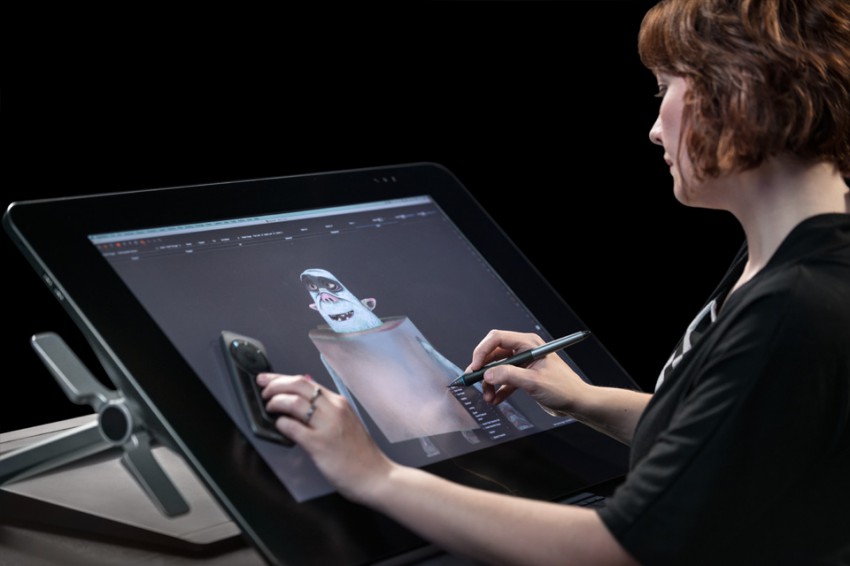 You can read a good post about it on community.wacom.com, (stuff with hand on the picture, that's wacometmapomme-like pictures ;p). We learn this remote works also with all Intuos/Intuos Pro/ Cintiq HD and Cintiq Companion2 (according to our sources there is not Intuos range – to confirm later this information). No price today for this tool if you want to buy it (recall : this tool is provided with the both Cintiq 24QHD). Last information : you could use 5 ExpressKey Remotes in the same time. So cool.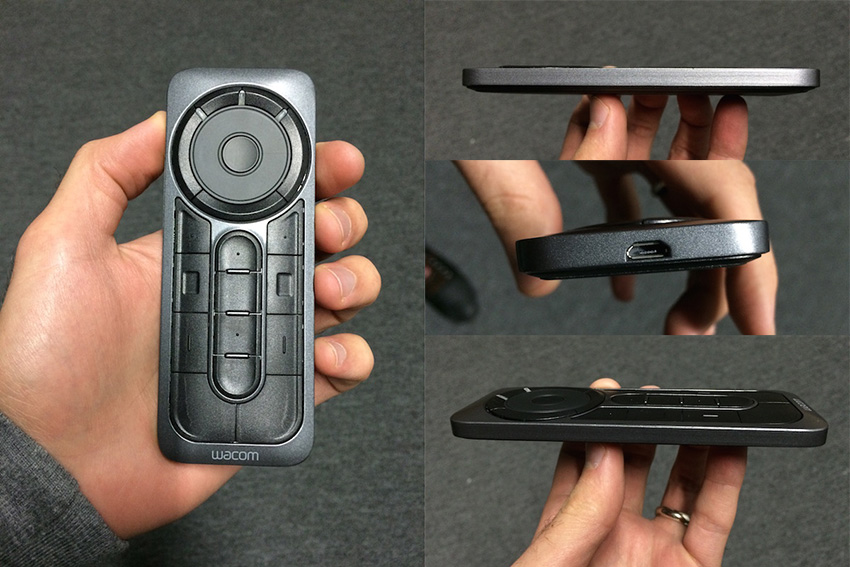 View of the ExpressView.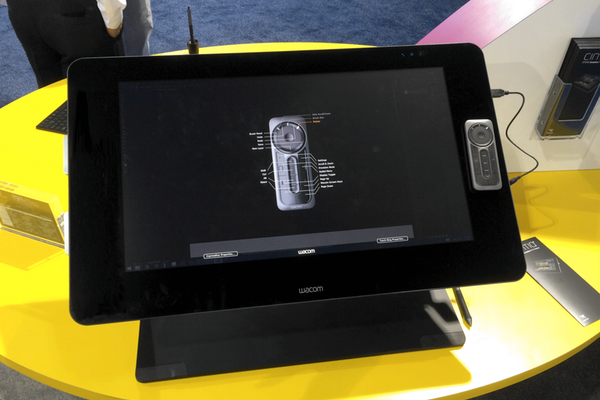 In real life. You note the remote is sticked to the screen when Cintiq 27QHD stand vertically. There is a magnet on the bevel. Like white Apple remote on iMac 2005/2006.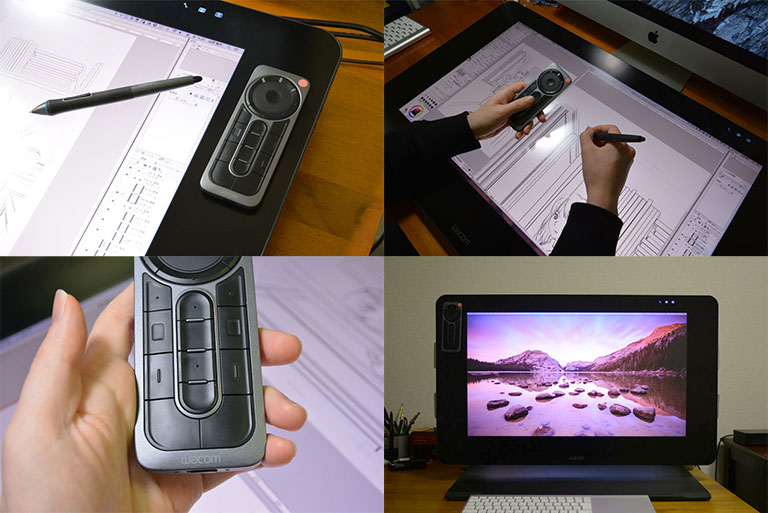 You love connexions. This new Cintiq has 4 USB3 ports. 2 on every side.
Last picture with all accessories. Pro Pen and ExpressKey Remote are provided with all Cintiq 27QHD. You have to buyWacom Color Manager and Wacom Keyboard if you want to work with.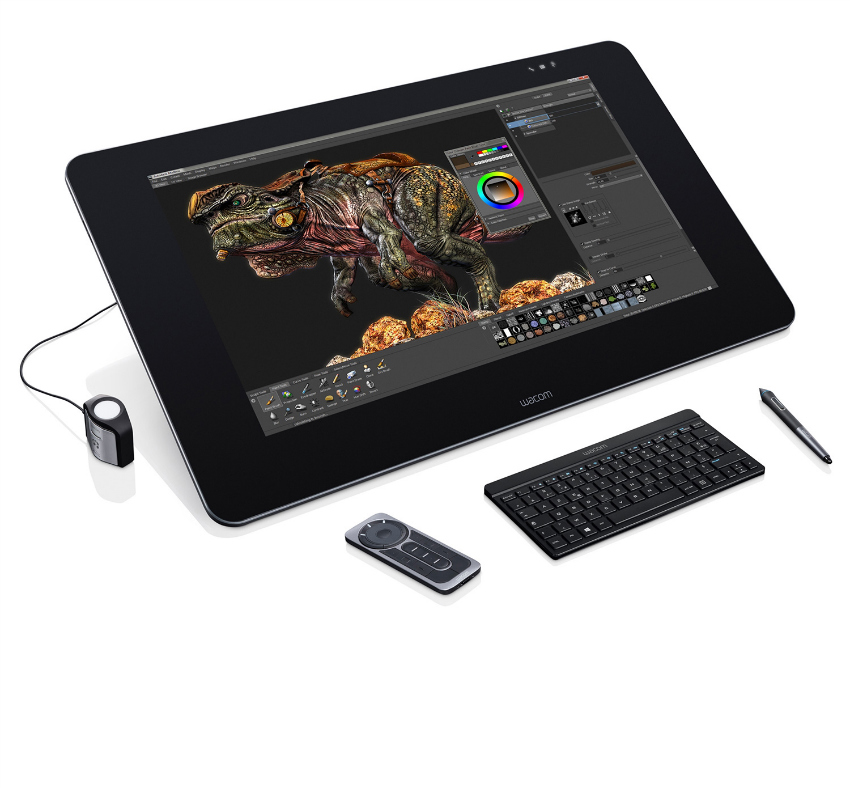 To close this post before last videos below there are no information about knowing if multitouch technology had been enhanced with the touch model. We write that because touch is really better on a Cintiq Companion than on a Cintiq HD.
Videos used for launching. Go to Wacom Youtube Channel to see other stuffs.
We'll talk about second Wacom product in a next post and we'll give you a lot of news about the new Cintiq Companion 2.