If you are curious or a little bit observer you notice a new graphic tablet appeared in Wacom websites two month ago: One by Wacom. But after new Wacom website's launch last month this tablet disappeared as a ghost. In fact there were two models One by Wacom : Small and Medium.
This tablet looked like a Bamboo Pen and had the same specifications (no multitouch) but the difference is this second medium-sized version.
We decide to write a little story of that model. Because we made investigations and we talked with mr Wacom. And we give you secret informations too (again).
In fact this tablet with the two models S and M was unveiled in 2013 only for emerging markets, India and Asia. The tablets 's numbers were CTL-471 and CTL-671. In the same year in september Wacom changed its range's names and tablets in the world. Bamboo became Intuos and Intuos became Intuos Pro. With a new totally different formfactor for Intuos-exBamboo. But this first-priced model called One by Wacom looked like old model Bamboo Pen 2011 (number CTL-470), but there was just one size Small for that model. The market was India and Asia but in september Wacom decided to sold a big quantity of One By Wacom in the two big markets (Europe and America – I just write two markets because I didn't verify if this model was sold in Japan). In France Wacom sold One by Wacom by the way of Vente Privée just in one day. Why's that choice? We wrote something in french website. After this post mr Wacom talked with us. But now after reading the Wacom financial reports in october we can easily think that because the new model Intuos-exBamboo has been a failure, maybe Wacom America an Europe decided to increase sales with that low priced model (the price in the picture was indian dollars). But this model could be only bought by not usual way. But you can almost find it if you search well.
The new thing with that model (I already wrote it) was the fact there was a model Medium without touch. Before in Wacom's range the semi-professional tablet with Medium size was only double priced Bamboo Fun Pen & Touch M (recall : 100$ for small version and 200$ for medium version). Of course this Medium model One by Wacom without touch was sold with a very low price.
Officially we can write this Bamboo Pen-like with the Medium size is the single graphic tablet in all Wacom's range. Officially… Because before Wacom driver was crypted we could read inside the famous file where all graphic tablets were listed with their number (recall : it's because wacometmapomme.com that Wacom decided recently to crypt all its drivers – except the new Wacom Desktop Center). And we discovered the number of a Bamboo Pen with Medium size. But this tablet was never launched in big markets. At this moment we talked with mr Wacom (very big mr Wacom) and it's was a choice to not launch this model. A lot of tablets were made but at the last time Wacom decided to not sell these models. Sometimes it's a good choice. Bamboo Fun Medium was a very well sold tablet and create its own market segment (I don't know if it's the right word in english).
Look these beautiful 3D pictures of our One by Wacom. It's like Bamboo Pen.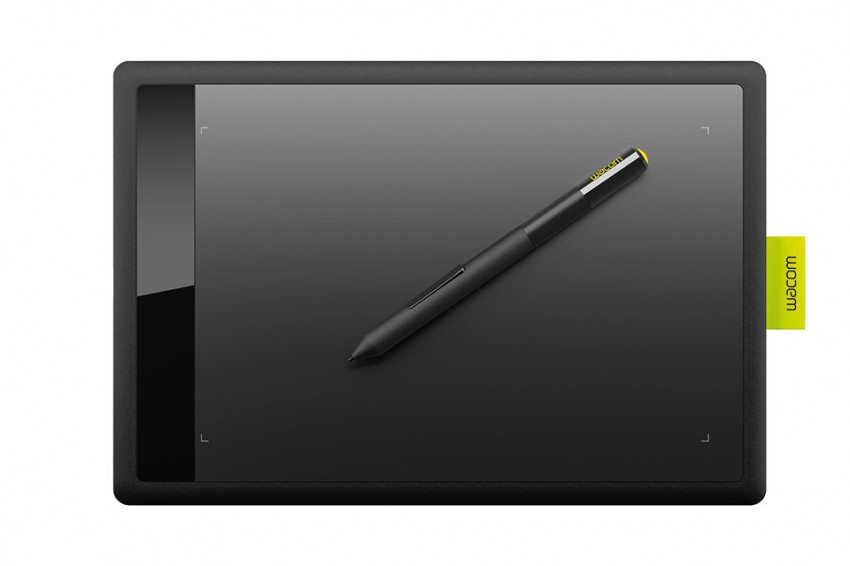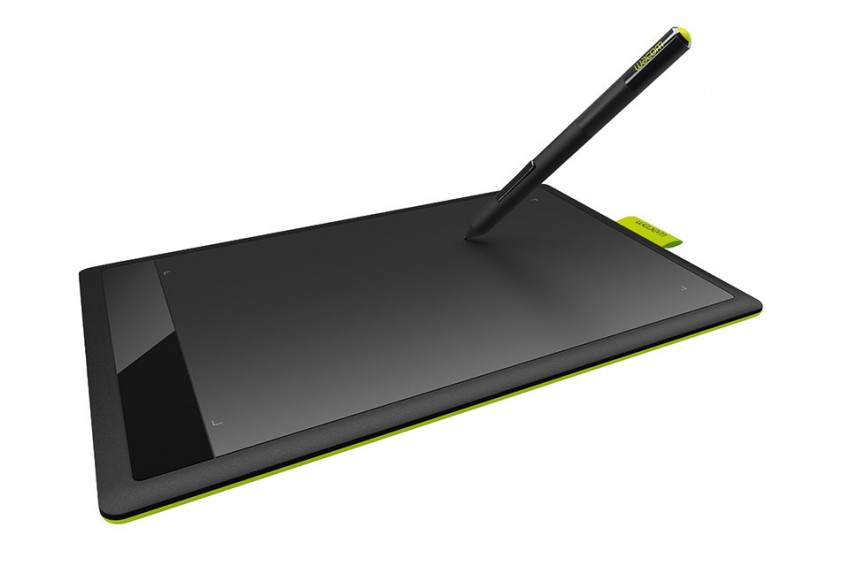 All specifications ( we did screenshots )
Small version  >
Medium version >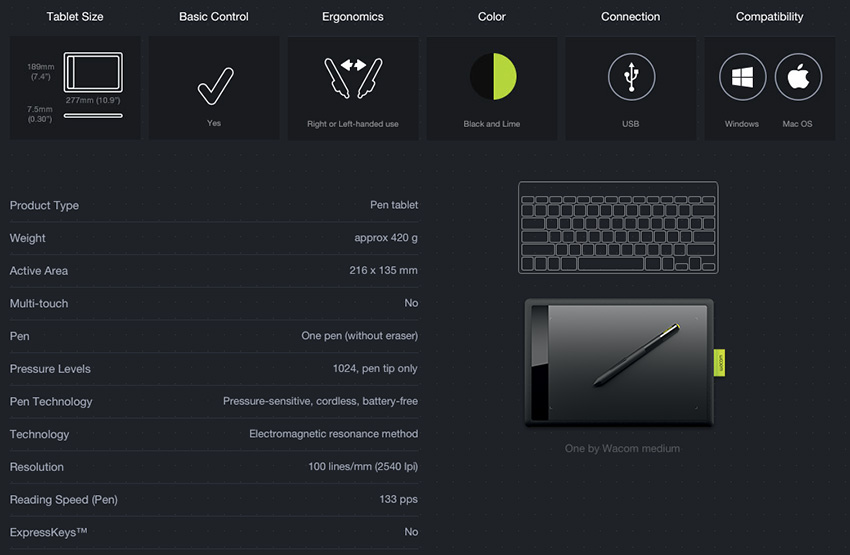 Accessories

If you want an One by Wacom icon on Behance…