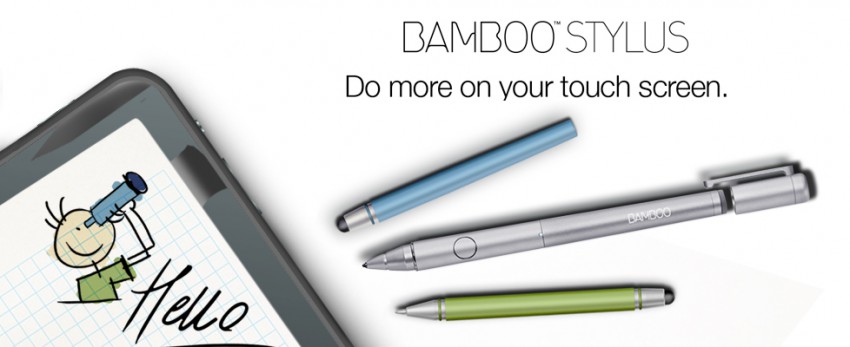 Remember (Link). Now Wacom updates its Bamboo Stylus range with two new Bamboos Stylus Solo and Duo. And a new baby : Bamboo Stylus fineline that is sold with a lower price level than the premium model, the new Intuos Creative Stylus 2.
It's IFA in Berlin until September 10. You can see Wacom's booth in Hall 12. Number 104. We looked for a horror  film with this number'room in a malefic hostel. Nothing found.
Wacom launched these new stylus. The models Solo and Duo are made for touch screens (iOs, Android, Windows). Bamboo Stylus fineline and Intuos Creative Stylus 2 recognize different levels of pressure and work only with Apple's devices. Last models : iPad 3 and after. [please, don't let me a comment like « why don't these stylus work with Android or Windows Tablet ? F*ck! – answer is easy . Samsung bought 5% of Wacom last year and launches the same day the new Galaxy Note 4 with the famous S-Pen by Wacom. Microsoft stopped working with Wacom for Touch Technologies into the new Surface Pro 3. If you want use a pen by Wacom with an Asus device,  you can buy a Vivatab Note 8 instead of a Transformer T100, but it's more expansive, of course. C'est la vie.)
Let's talk about : Bamboo Stylus Solo et Duo (respectively 20$ and 30$).  This is third version. To recall the firts price of the range is the Bamboo Alpha (15$). The new thing with Solo et Duo is the nib material : fiber carbon with an inner silicon core (Warning, don't think about another thing than writing with). The nib size is 6 mm. No information, of course, about life of its new nib.
Solo model is very cute. Nice gift for christmas (No, no, I don't try to sell you this pen. I'm not authorized…).  6  colors. With a cap and clip at the top.  No pressure.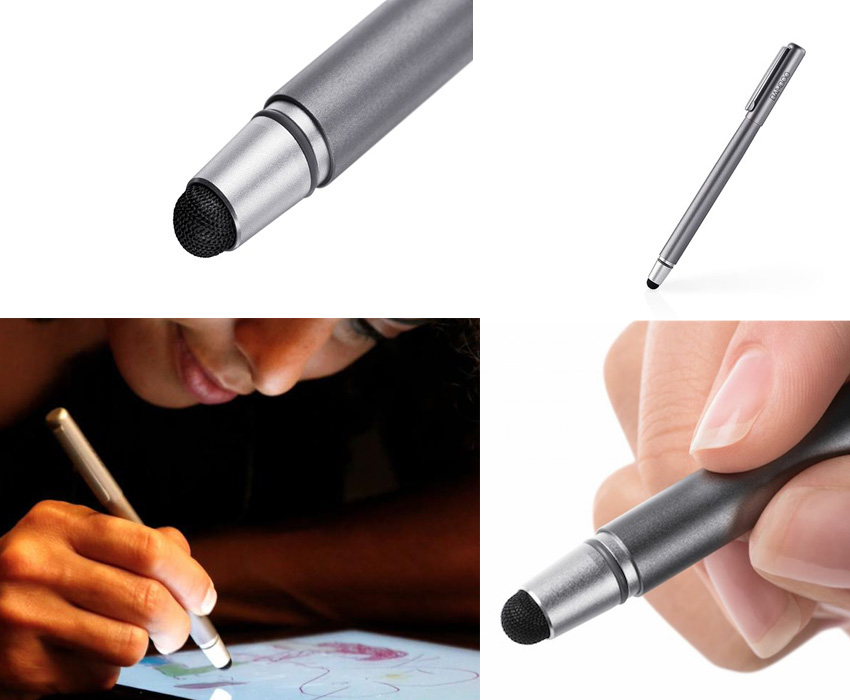 The page > http://www.wacom.com/en/us/everyday/bamboo-stylus-solo
By the way The Facebook Page « Bamboo » became « Bamboo Stylus » > https://www.facebook.com/bamboostylus . We forget you to give you information ( sometime read the french version if  you want news right away ).
The video > heu… A little bit  gay friendly… lol
Same thing (cap and clip) and same colors for the Duo model.  This pen is a combination of two pen, one for touch tablet devices (with  carbon-fiber woven tip), one for paper ( with good-quality ball point). Don't try  to change surface and nib. If you made this mistake, you can blame your cat in front of your wife. If you have a dog… Use a knife on your touchscreen before. It will be more credible.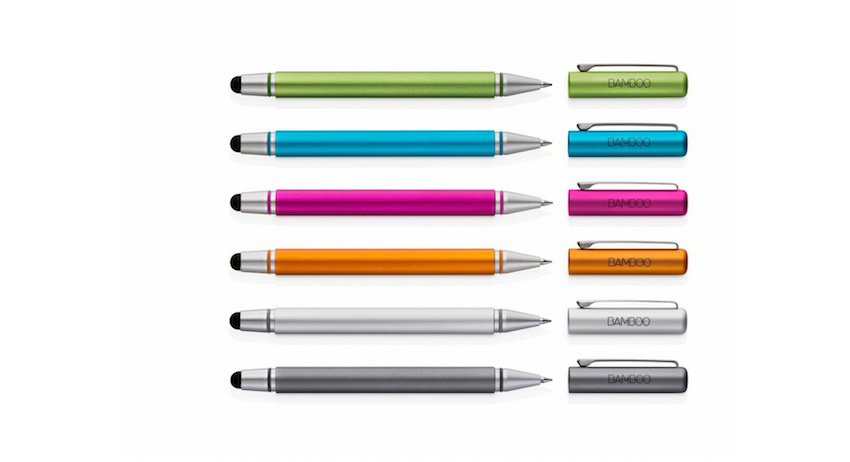 The page > http://www.wacom.com/en/us/everyday/bamboo-stylus-duo
The video >We love the Office scene. With  the two lamps… To make a psychological analysis later will be a good idea.
Now let's talk about the new model,  Bamboo Stylus Fineline. Price :  60$. This new pen  can draw with 1024 levels of pressure  (same levels than a  semi-professionnal graphic tablet like Intuos 2013 or previous Bamboo Pen&Touch. And old professionnal graphic tablets – Intuos 1 to 3 – 1998-2004 – if you want to know all history of Wacom product, go to the french dedicated page). You have to activate bluetooth ( 4.0 – for iPad 3 + Air and after) to connect your stylus to your iPad. Of course it works with compatible apps, but all top app for drawing can already use the fineline because that worked before with the first Intuos Creative Stylus.
The two new things to know are :
– the ultra-fine stylus tip :  1.9 mm. The finest tip of the market (… OK, it's not true… There is an other range with 1.9 mm sized pen's tip… Yufu. It's not a joke, it's really a mark. I get informations you don't get)
– this pen has a USB recharger (micro USB) at the end.  19 to 26 hours of battery life (in my papers, the same where is written Yufu,  I could read … 50 hours). The USB cable is in the box…
Tilt was not recognized. No problem with your palm on the touchscreen. Nib and palm are recognized and you can draw without incidentally zooming in/out .
One more thing. The pen has a single programmable shortcut button (standard shortcuts for a smartphone/iPad)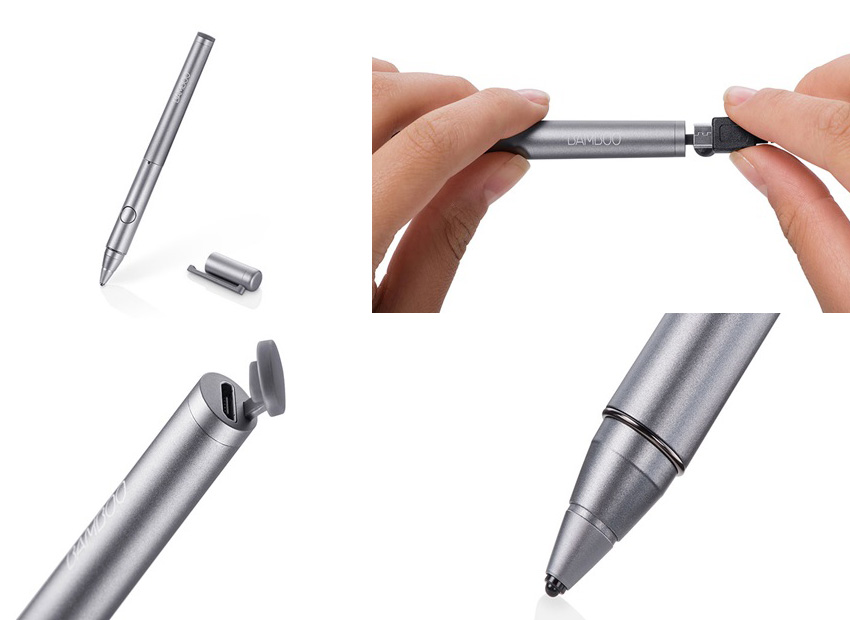 5 colors. Cap and clip. To recall you can annotate PDF file. With app Bamboo Paper (freemium app), you have a free pack to download .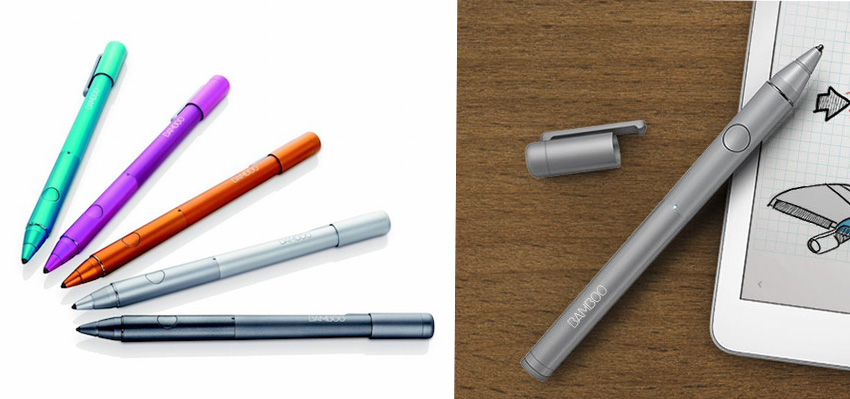 The page > http://www.wacom.com/en/us/everyday/bamboo-stylus-fineline
The video  > very surrealist by the way. Ok, that talks about what we can do with touch and pen (note, graphics, sharing, mobility), but strange atmosphere.
To finish the new Intuos Creative Stylus 2 (80€), that now become the premium version of stylus-with-pressured range. The pen looks as a Pro Pen Pro Pen with 2048 levels of pressure.
Webpage > http://www.wacom.com/en/us/creative/intuos-creative-stylus-2
On Wacon eStore > https://store.wacom.com/us/en/product/CS600PK.
Lower price than previous model with -20€$. The nib's width is 2,9 mm.  This pen is taller than ICS 1. Same thing than BS fineline : connect this pen by bluetooth 4.0 to your iStuff and recharge battery by a micro-USB connexion. No tilt too. No palm's problem. You also get a carrying case for your ICS to be « Chic » in a party. Like the Pro Pen for a Cintiq Companion.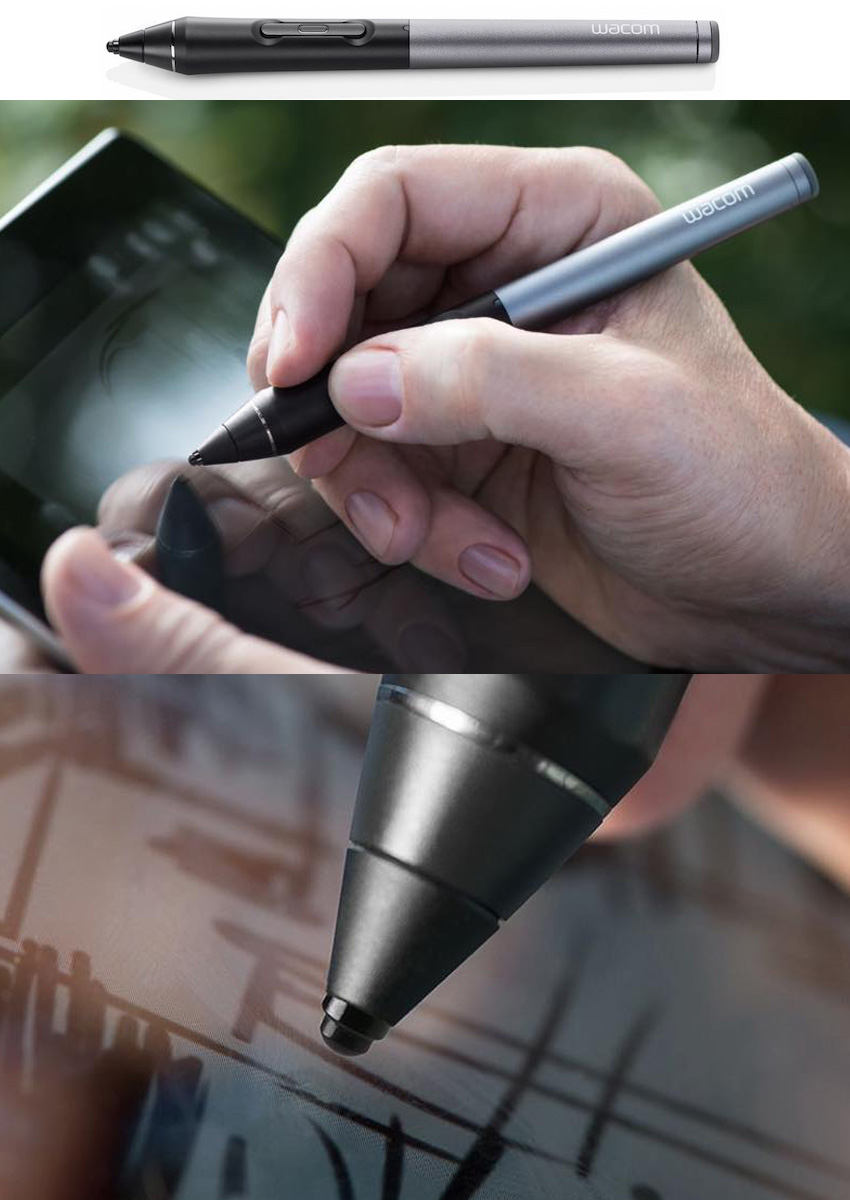 Video > Nice drawing. A polluting factory in nature (???). Strange.
You can work with a lot of  apps like SketchBook mobile aka now Autodesk® Sketchbook ®Pro, like…. Heu… Only 4 apps this day…®®®®®®®

The both last stylus(fineline and ICS2) have their own IDs. When Cloudind business by Wacom will be ready you can send and share your drawing with a digital signature. WARNING : If you draw yourself naked in front of your glass, you take a risk. Hacking Cloud is easy now. Even if you're not famous…
End of this post and end of the story.
Note : in Wacom Us Store they change text about ICS. In the old text of the last model there is a big mistake. The text was « The Intuos Creative Stylus connects to your iPad 3, iPad Mini or newer iPad using Bluetooth® 4.0, which transmits information about pressure, tilt and rotation–just like other Wacom professional pens. » The ICS never recognized tilt and rotation. Because  we are jackals, we write to mister Wacom to have information about this HUGE error. Because of us, one french, two germans and one from Wacom America worked to clarify this sentence. It's not a joke. We're really big jackals 🙂