Here Vince, my app Divin is now on AppStore. Only for iphone 5C & 5S (you can try with a iPod Touch and old iPhone but you see it with black borders – don't buy for an iPad, I made later a version for iPad when the story will end). Only for 0,99$. You can find it in category « Book ». The app is a comic/graphic novel that uses accelerometer. I draw only the two first chapters with an epilogue. I'll make a lot of updates next time. It's a story of Science Fiction. I draw in black and white with sometimes colors (only red). I reduced violence and nudity in all images so that app is accepted by Apple jury. I already made a little bit of apps, but I always same problems. There is no dialogue. You can easily understand the story.
Some pix from my comic (or graphic novel) DIVIN on AppStore (0,99$ – not expansive – cool app – fabulous app to offer –  gorgeous app – good effect in your apps library – app for trendy – heu… – must have).
I draw everything with my Intuos Pro M. You can do the same thing with an Intuos5 or 4. For all rough works I used all open softwares in my computer : Painter, Photoshop, Sketchbook, TVPaint… For clean works I used for drawing Corel  Painter (par habitude). To assemble all elements [characters + landscape + background] and add a lot of effects, I used Photoshop. For my robot et space ships, I choose 3D softs : Maya for modeling ( low polygon to keep a « pixel » effect) + import in ZBrush for texturing and for choose points of view and at the end I export all in Photoshop with ZappLink.
When I will have time I will write a tutorial.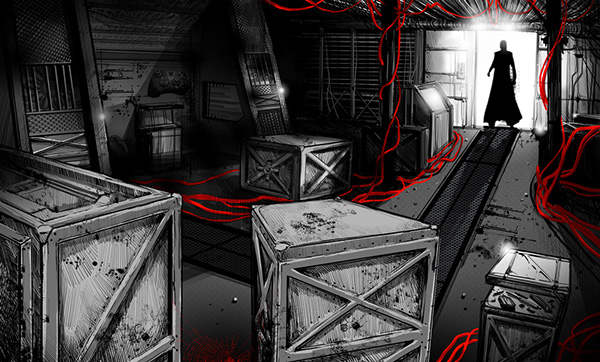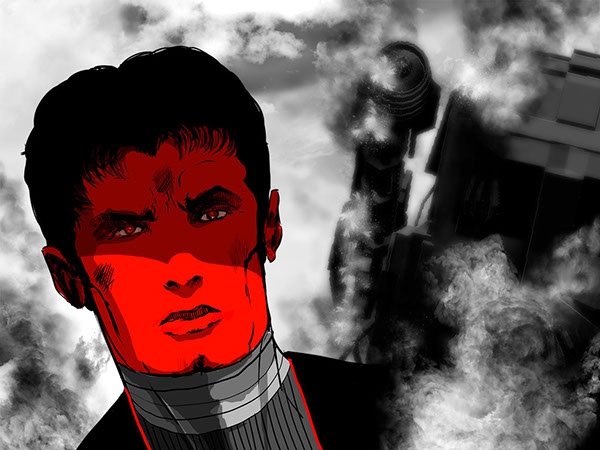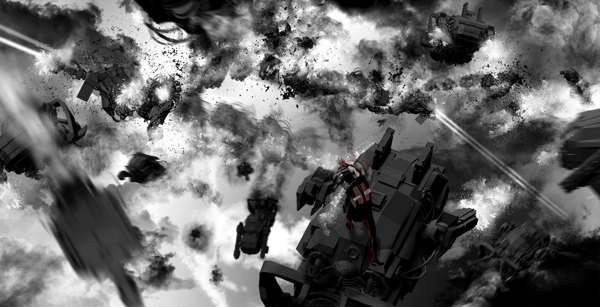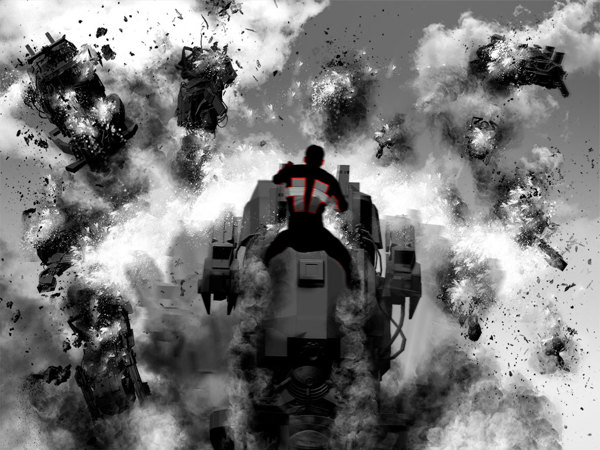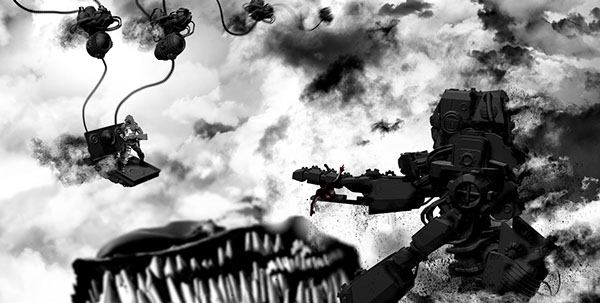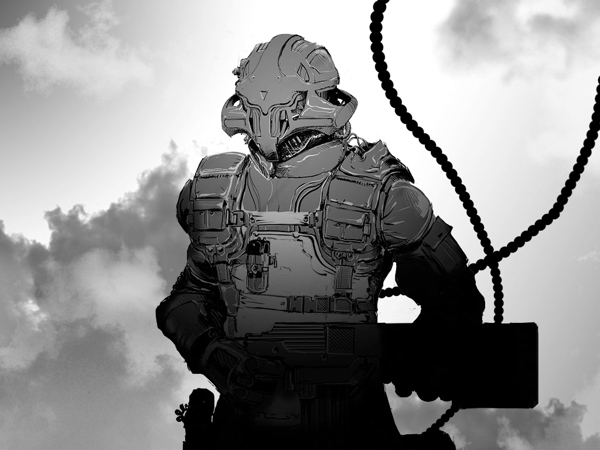 You can download the brushes (for Photoshop) I used for my work on the french website at the page Téléchargements. You can also click on the pix below to download it. The content of this pack of brushes was created with personal brushes and free brushes I downloaded and I modified to enhance it  and to add presets for graphic tablet in Photoshop.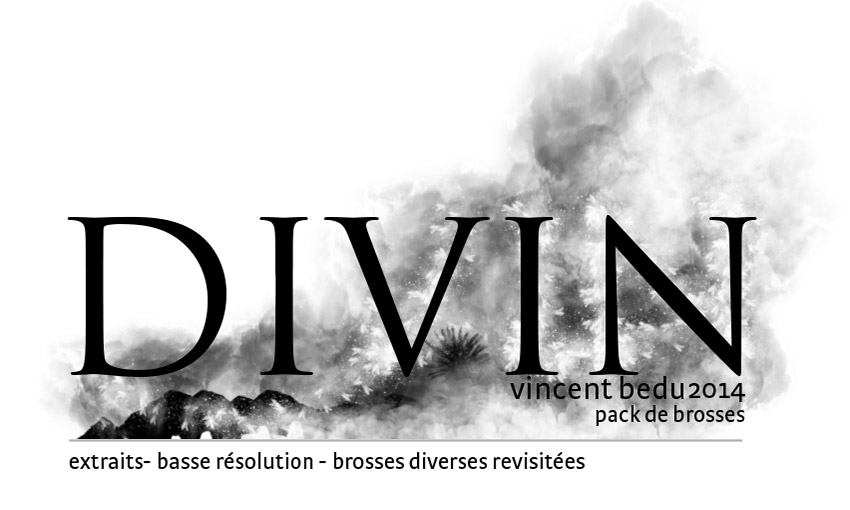 Brushes previews to create fog, smoke and explosion. You can us it for concept art. No copyright. I'll make a pack of brushes optimized for art concept.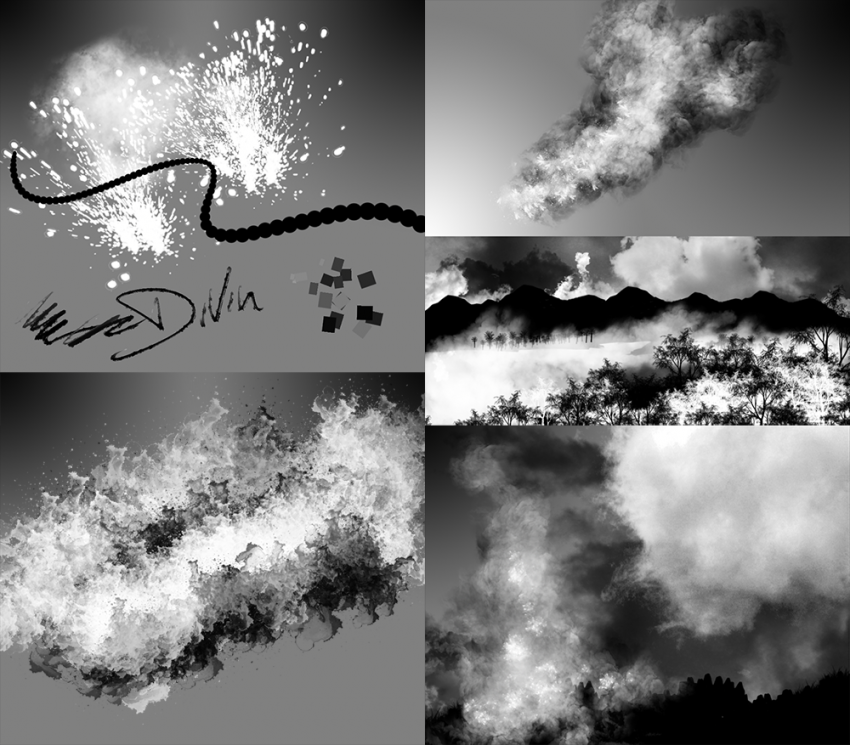 A last pix of my app. You need to use accelerometer of your iPhone to see all parts of this large and vertical landscape. In my app, you use Accelerometer for scrolling or Zoom in/out in the picture or elements. Sometimes you use scrolling bar. You touch the right element in the picture to go  to the next image.