Read on Wacom.
In the middle of April Wacom announced to reach to sell 100 million (in french we write 100 millions… With a S at the end) pen components using Feel It technologies. In fact, since 3 years, 90 million of Bamboo Stylus decided to join a smartphone or a tablet for the first time and captive our creative moments. Now we understand why Wacom also creates a lot of Bamboo Stylus with different sizes, different colors, different prices. All Galaxy Note, Surface  and others tablet use a pen with Feel IT technologies.
In the text below we have also a history of all pen by Wacom (graphic tablets too) : in 2002, number of Wacom Pen on the road was  100 000 (therefore : 100 000 tablets sold. Pro + semi-pro). In 2006, 1 million (therefore : more cheaper semi pro tablets, more designers-concept artists-digital artists, more PC tablets).
Copy and Past of Press release >
Wacom has reached 100 million units of pen component
production demonstrating the potential of the digital pen as a primary tool in the age of "digital stationery"
April 17, 2014 (Tokyo, Japan) — Wacom Co., Ltd. today announced that cumulative production of its unique digital pen components reached 100 million units as of April 16th, 2014.  Called "Wacom® feel IT technologies (branded feel™)," the pen components are optimized for use in mobile products such as smartphones and tablets.  Out of the 100 million, 90 million have been manufactured in the last three years, illustrating the accelerating demand for digital pens as a speedy, high-precision input tool on mobile products.
Wacom's component business took off in 1991 on an OEM basis, supplying key components to leading overseas and domestic PC manufacturers. This followed the trend to incorporate pen input features into operating systems such as Windows 3.1 by Microsoft and "Pen Point" by GO Corporation in the USA.
The business grew to an annual production of 100,000 units by 2002, increasing to 1 million units by 2006.  Adoption of feel by Samsung Electronics for their "Galaxy Note" flagship smartphone in 2011 accelerated this growth, building momentum.  The annual volume in fiscal year 2013 reached 43.5 million units thanks to the growing smartphone market and diversifying customer base to include tablets and e-books on Windows and Android OS.
In addition to the current EMR (Electro-Magnetic Resonance) technology, Wacom will be adding two new types of electrostatic pen technologies — "Active ES" and "Passive ES" — to achieve further growth. With this "Multi-Technology Strategy" covering a wide range from heavy to light user needs, Wacom will drive the penetration of digital pens as a key interface tool on mobile products, and demonstrate its long term commitment to its partners worldwide. (For more details see Wacom's press release on March 11, 2014.)  It is also possible to assign a dedicated ID to each pen, identifying individual users who can then collaborate, share and edit handwritten content via the cloud.  Security features can also be added to the ink data exchanged on the cloud.
In February this year, Wacom announced "WILL (Wacom Ink Layer Language)" which makes « digital ink" compatible across multiple operating systems and hardware platforms. The Wacom Ink Layer Language paves the way for "digital stationery" in which people can use digital pens with mobile products and share content over the cloud.  This combination of WILL, the evolution in our pen technologies, and the growth in how people use technology means that Wacom is in a uniquely strong position to lead the movement towards the age of "digital stationery" in collaboration with our industry partners.
> End of Press release
You want to know what are Feel IT technologies, look this site  Wacom Components. But in 2009 Wacom created an instant website about Feel It technologies ( www.feelwacom.com ). Because we are the best we had good ideas to made screen captures ( link WacometmaPomme). Scoop for you.
Old screen captures to explain Feel IT Technologies >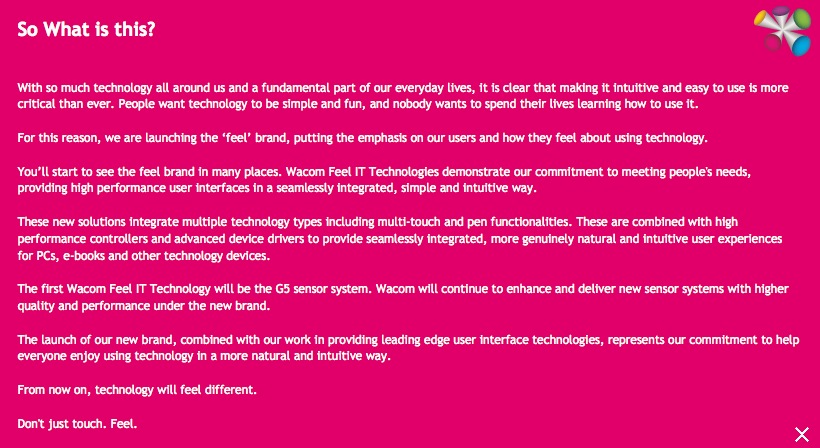 To close that post, Can you feel It by Jackson Five. For funny sound effects.