Wacom renews its semi-professional range by changing its name. Exit the term Bamboo. Now it's reserved for Bamboo Stylus and Bamboo Pad. The graphic Tbket Bamboo joined with Graphire the Wacom cemetery Wacom. The new name takes the term of the pro range, Intuos, which itself becomes Intuos Pro. Also exit the equivalent model Bamboo Pen & Touch. Exit the distinction between Bamboo and Bamboo Fun. That was before. Now you have three models: the Intuos Pen (ex Bamboo Pen), the Intuos Pen & Touch S, the Intuos Pen & Touch M (ex Bamboo Fun P&T S and M) and a variant with the Intuos Manga P&T S (ex Bamboo manga), which offers a bundle with oriented apps (this model is not sold in USA).
We will not made judgment on the new direction of Wacom, but we wrote several times, that the last Bamboo P & T corresponded to Intuos 2 with 1024 levels of pressure and 2540 for resolution. So this range resume the term, this is normal. Of course, there's no tilt for pen and the driver is limited, if we compare it to the graphic tablet pro range, now called Intuos Pro. I write this, but I have not checked if there were any changes in that field.
The four models in picture.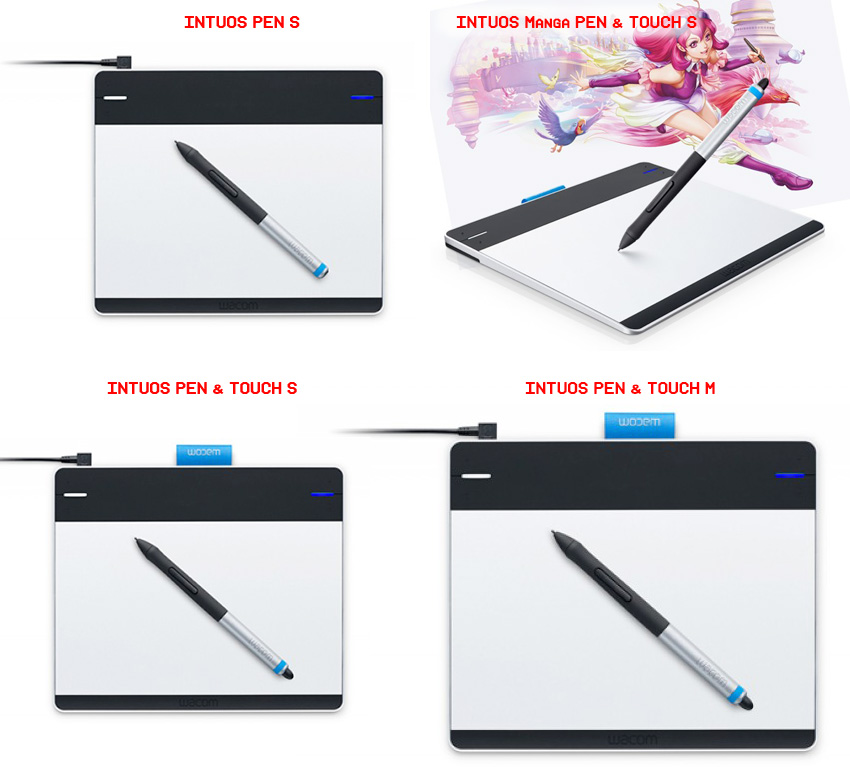 We find the same differences and the same similarity. In appearance. Intuos Pen, Intuos P&T S and Intuos Manga T S are the same size S. Only Intuos P&T offers a size M, with an doubled active area.
All models feature a USB cable but you can use it wireless with a module to buy [40 €]. All models offer four ExpressKeys.
The Bamboo with his first prize does not offer multitouch and pen has no eraser.
All tablets are similar with black, blue and silver colors. You flip the tablet upside down, it looks like an iMac.
Numbers + prices >
Intuos Pen S : CTL-480S (maybe S for Standard) : 80$
Intuos Pen&Touch S : CTH-480S : 100$
Intuos Manga Pen&Touch S : CTH-480M (M like Manga) : 100$
Intuos Pen&Touch M : CTH-680S : 200$
We note that the price range is the same as before, except that the Intuos Pen model takes 10 € more (in Europe in euros, we don't know the old price in $ in Usa).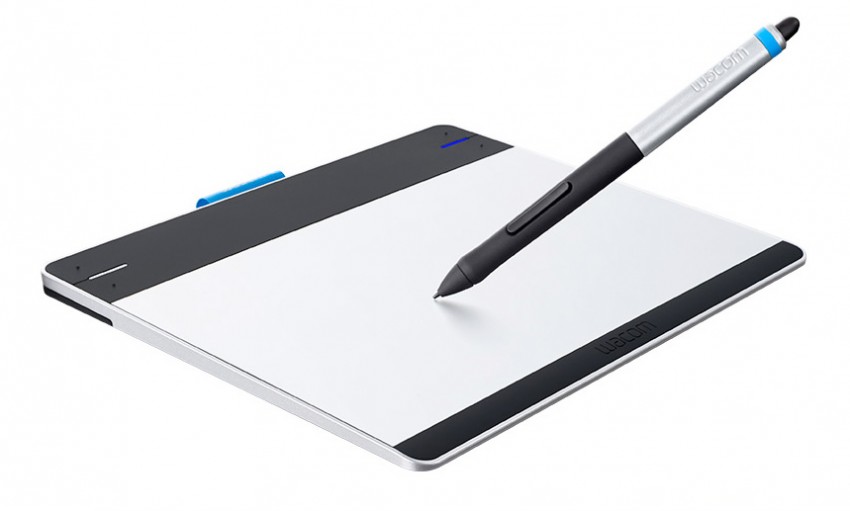 The big difference with the older models, besides formfactor, is the general size of the tablets that were strongly reduced. This has also affected the weight. S models have a weight loss of 25%. But the best is that the active surface (where the pen works) is slightly higher. But not for the M version, which alternates less and more (verify if there is no error on the part of Wacom).
Comparing models Intuos Pen | Bamboo Pen
Taille : 210 x 176 x 11 mm | 278 x 176 x 11 mm (-68 mm for length et 11 for thickness – end of borders)
Poids : 300 g | 395 g ( -95 g )
Surface active : 152 x 95 mm | 147 x 92 ( + 0,5 x +0,3 mm )
Comparing models Intuos Pen&Touch S | Bamboo Pen&Touch S
Taille : 210 x 176 x 10 mm | 278 x 176 x 11 mm (-68 mm fr length et -1 mm for thickness)
Poids : 310 g | 419 g ( -99 g  – the model Pen is lighter than 20 g)
Surface active : 152 x 95 mm | 147 x 92 ( + 0,5 x +0,3 mm )
Comparing models Intuos Pen&Touch M | Bamboo Fun Pen&Touch M
Taille : 275 x 222 x 10 mm | 352 x 209 x 11 mm (-77 mm for length, +12 mm for width et -1 for thickness)
Poids : 520 g | 642 g ( -122 g for weight )
Surface active : 216 x 135 mm | 216 x 137 ( -0,2 mm – aïe! )
Pictures after boring numbers.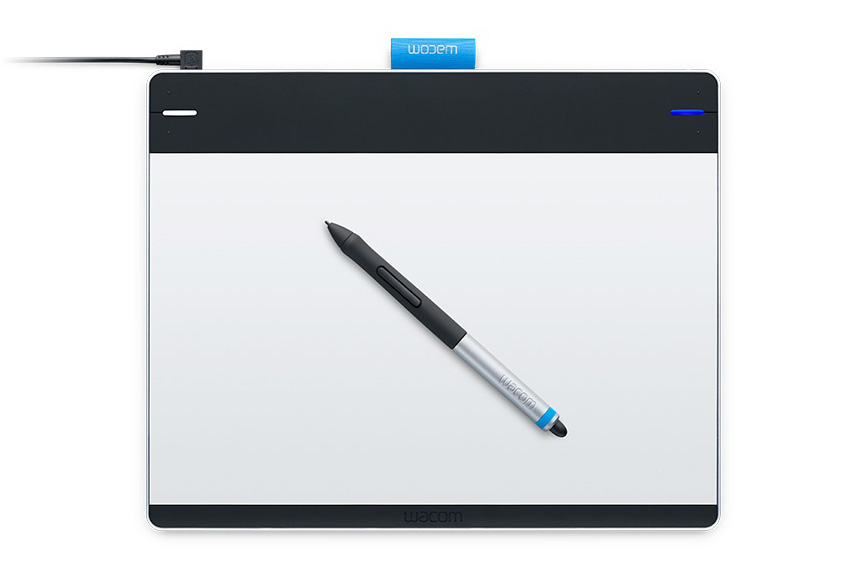 Side view : it looks like a MacBook Air.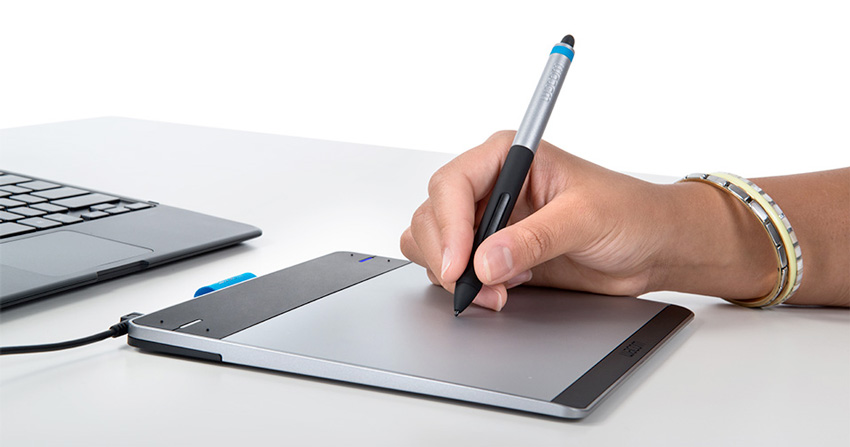 Sur la video, c'est plus clair.

The fourth Expresskeys are here, but someone must say to you, because it's not clear at first sight. Ha, minimalism… There is also the USB cable connection at the top left of the tablet.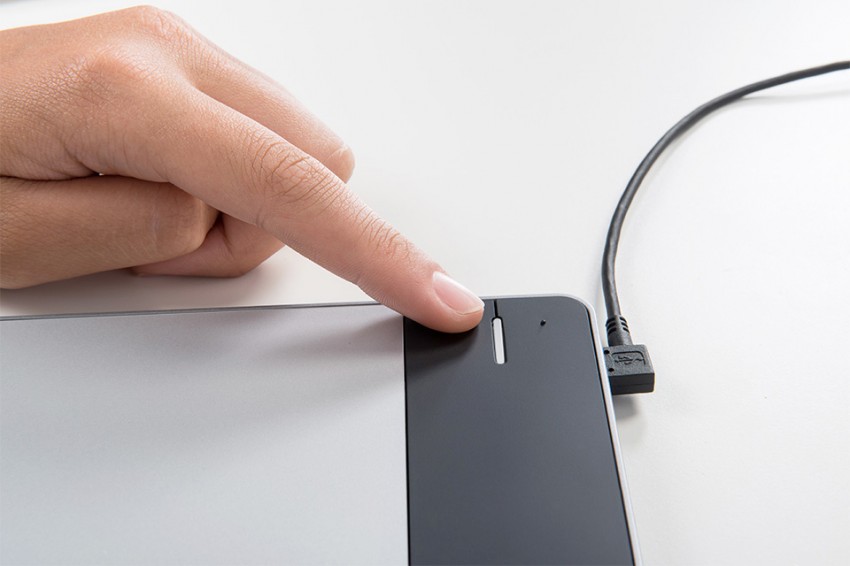 The back of the tablet with the optional wireless module. We note that we can detach the blue fabric. The slides are embossed. Good idea, but not present in the Intuos Pro …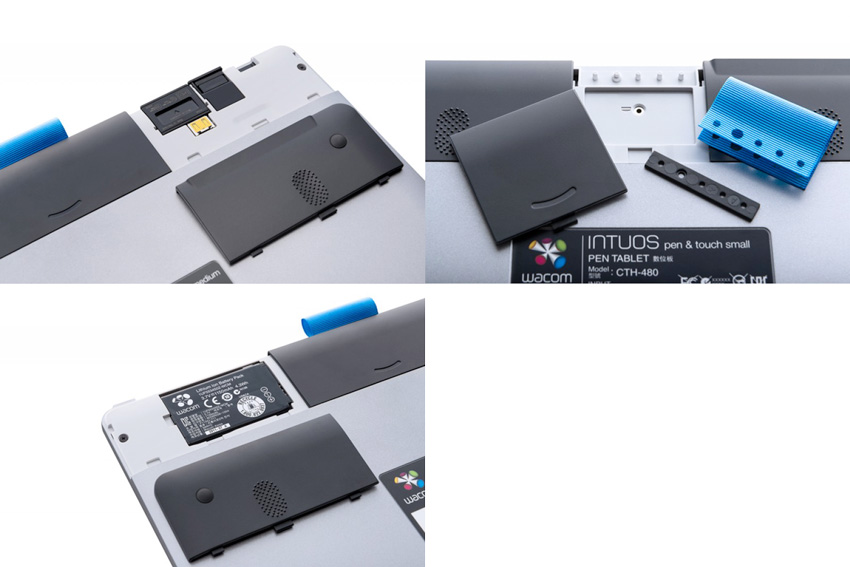 When all is ok, Wifi can work. No news if wireless module has been improved. To recall, that stuff works in all models : Intuos/Intuos Pro and Bamboo 3G/Intuos5.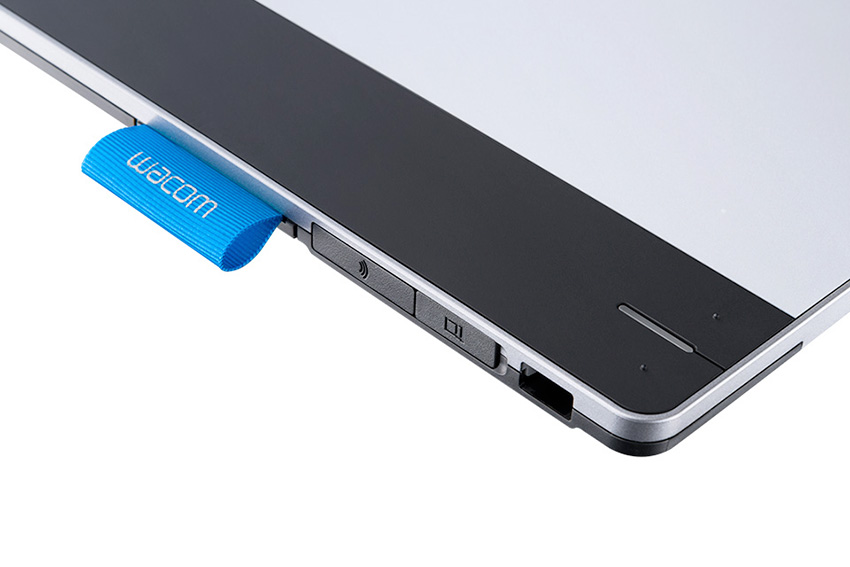 Zoom  in the new pen of these Intuos Pen&Touch. The Eraser is here in all models, except Intuos Pen.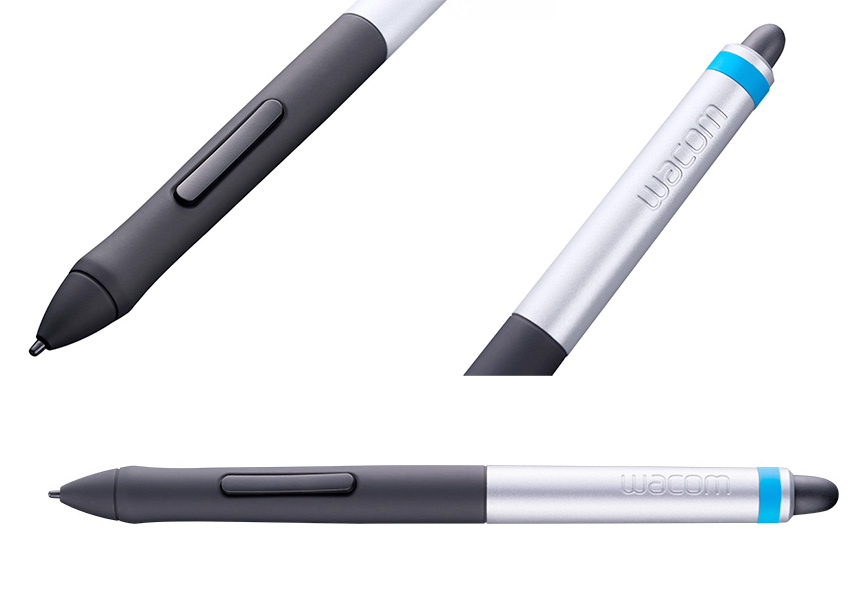 The blue fabric is present in all Intuos,  but we can remove it (see above).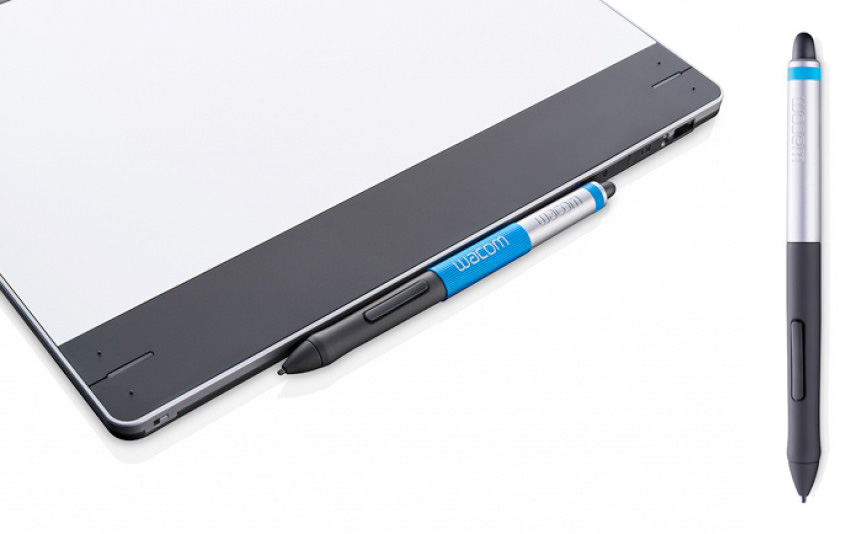 Multitouch is here for all fingers (only human fingers accepted). No news about improvement and new gestures by Wacom.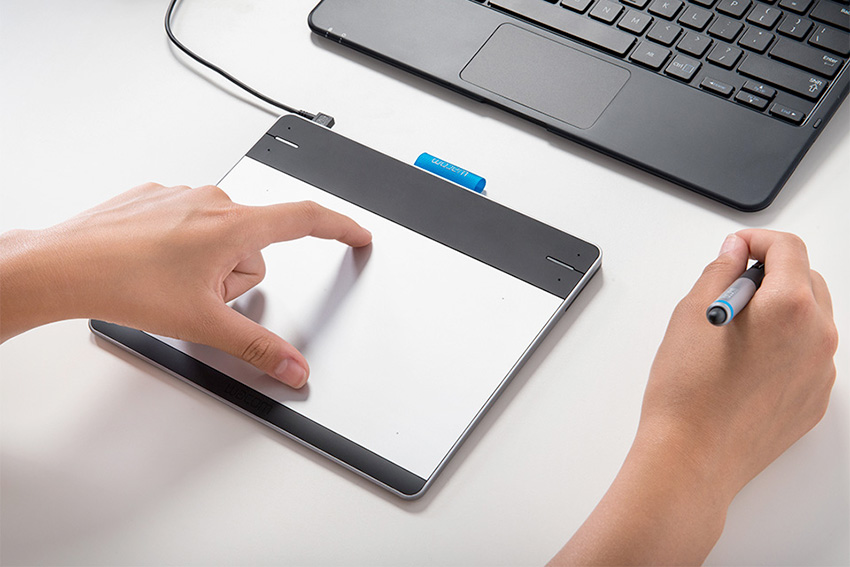 Finally, focus on Manga Intuos Pen&Touch S version, which is identical to the version Intuos P&T S, but it sold with two apps Manga Studio Debut 4 and Anime Studio Debut 8. The word Creative print on the box. Otherwise I haven't verify if other tablets, model Pen and models P&T S + M, are sold with softs, but this should be the case.